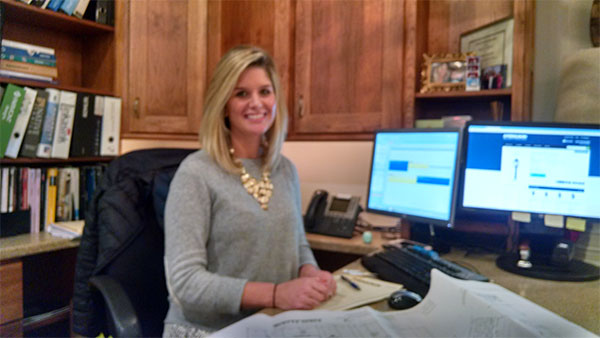 Meet Meghan!
Well, our farmhouse is coming right along despite all of last week's record snowfall!  Luckily, we are scheduled for all indoor work.  The heating and air, plumbing and electrical rough-ins have all been completed.  These are the important components behind the walls that must be installed and inspected prior to insulation and drywall being installed.  Our cabinet makers marked the location of the cabinets in order for the plumber and electrician to know where to install their pipes and wires.  I have selected all of the plumbing fixtures at Ferguson with Meghan.    Meghan is so knowledgeable about appliances, plumbing fixtures and light fixtures.  She has a great sense of design and also helps us stay in budget!  She is a joy to work with and we couldn't do it without her guidance.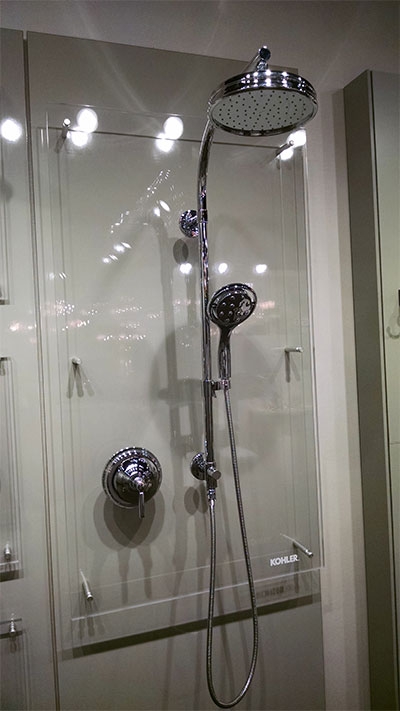 Exposed Plumbing
All of the plumbing fixtures in the farmhouse will be by Kohler.  I just love this exposed shower unit we are using in our "rustic" bath.  Isn't it cute?  It reminds me of an outdoor shower perfect for a coastal farmhouse! I am also excited about all of the different plumbing designs we are doing in the house.  The master bath will have a large "walk through" shower.  There will be a freestanding tub in front of the shower.  The master bath vanities will have wall mounted faucets. The tub filler will also be wall mounted.  And wait till you see the ceiling Rob designed for the master bath! I can't wait to reveal it to you when it is all done.  We have 4 other baths in the house. One shower will have a rain head from the ceiling.  Rob is also planning a dog wash station in the garage.  The laundry room will also have a great "farmhouse" wall mounted sink with a drying rack above it.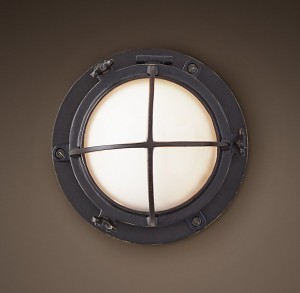 A Wall Sconce
The electrician has also completed his wiring of the house.  Meghan and I have selected the light fixtures. To me, the light fixtures are the jewelry of the house. I'm very excited about some of our sconces.  Rob and I love sconces!  One of the fireplaces will have sconces.  The dining room will have sconces.  We selected sconces to go on the bookcases in the library as well as sconces above our eat-in bench seat in the kitchen and above the kitchen sink.  The upstairs hallway is getting porthole sconces!   Due to my navy obsession, I was even able to find a navy chandelier for the foyer and navy pendants for the master bedroom.  I am also meeting with the wall paper hanger this week.  Of course, the grass cloth will be navy! This week the weather promises to be better.  The stone veneer, navy siding and metal roof are all to be going on.  I will show you progress pics next time.