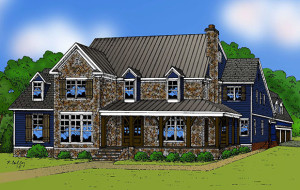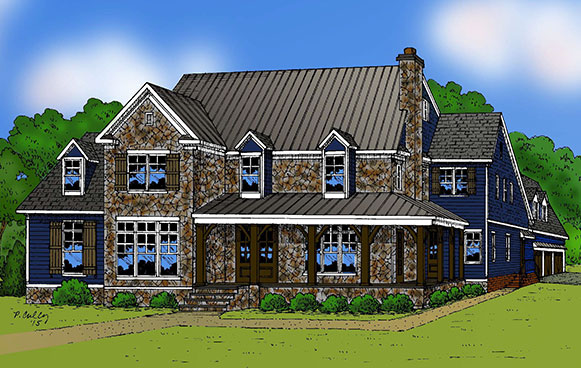 Front elevation of the Nantucket South!
Well, here it is as promised. . .Ta-da!  This is what our farmhouse will look like when it is all finished.  I hope you like it as much as I do.
While the front of the house is stone, the remaining sides will be Navy.  The actual Hardiplank siding color is called Deep Ocean.  I think it will look great with our stone and white trim. It has been a busy couple of weeks.  Framing is almost complete.  I can't wait to see the metal roof after it gets installed!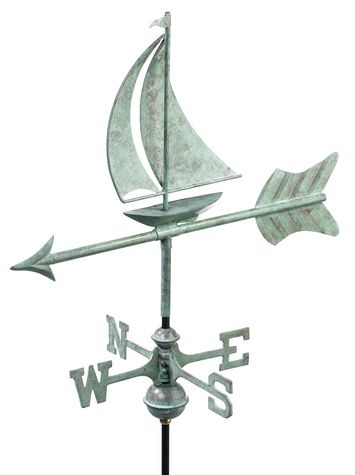 Sailboat weathervane
I also promised  to reveal  one of our coastal outdoor ideas.  I hope you like the sailboat weathervane on top of the cupola.  I thought it was ironic when Rob selected the cupola, the name of it was Cape Cod.  (I selected the sailboat weathervane.)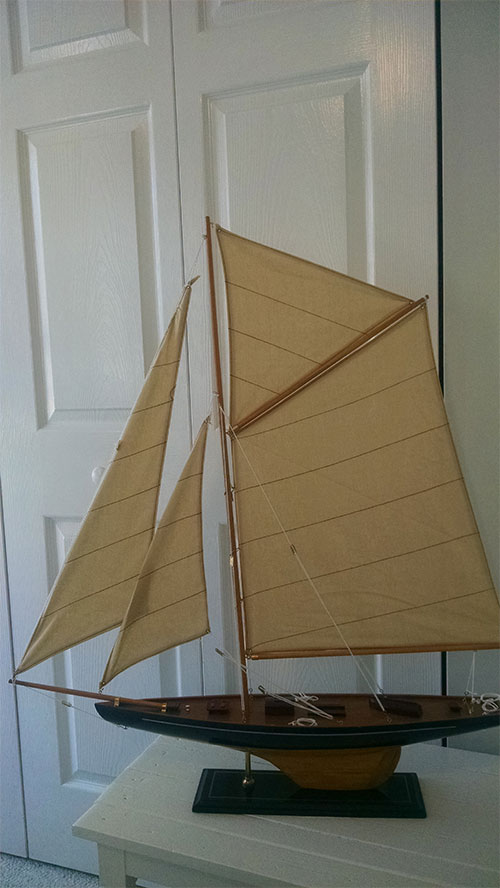 Sailboat for one of the 3 mantles!
Those of us who in live in Virginia love our Chesapeake Bay and sailing!  You will see on the inside décor I will repeat the sailboat theme.  Here is one that will go on one of 3 fireplace mantles in the house.
Now for my new obsession:  I can't get enough of the color Navy.  Navy to me is nautical neutral.  I also think both men and women like the color which is VERY important when you are selling homes to appeal to both sexes.  One of  my jobs is to help our customers with all of the selections for building their dream homes.  But we know married people don't always agree or have the same taste so it is good when you can find colors that appeal to both. I hope by sharing this experience, I can show future Southern Traditions customers how the selection process works but also how much fun it can be.
We have also been working on our cabinets.  One important thing to know when designing your kitchen is to select what appliances you want in the kitchen first so the cabinet designer can design the cabinets to work with the space and the appliances.  Rob and I selected our appliances at Ferguson.  Our main focal point will be the 48 inch Thermador gas range with two ovens.  We will also have a custom wood hood above.  Of course there will be a dishwasher and frig.  There will also be a microwave drawer within the large kitchen island.  We are also excited about our beverage center with a coffee maker above and a wine frig below.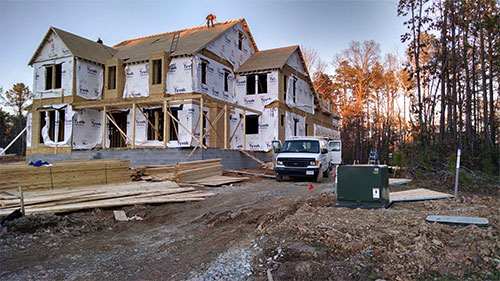 The house in the middle of framing!
We have selected Creative WoodWorkz to build kitchen and bath cabinets for us.  The owners are Chet and Lynette Gray.  They live and work about 8 hours away in North Carolina.  The distance can be challenging but they make it work. We have worked with them on several projects and they do beautiful work.  One reason I like dealing with custom cabinetry is because I can select my own paint colors for the cabinets.  My kitchen cabinets will be white so I can select the trim paint color throughout the house to match.  We have decided to do Navy cabinets in the master bath because of my new obsession and I think it is a good coastal look.  I know it will look great with our white tub.  Speaking of tubs, I will be selecting the plumbing fixtures at Ferguson. Next time, I will introduce you to our wonderful sales associate   who helps our customers with their appliances, plumbing and light fixtures.